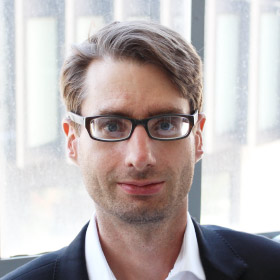 MATTHEW MARKUS
ORGANISATION: CEO, PEMBIENT
TEAM NICKNAME: THE BIOHACKERS
IN THREE WORDS: POSSIBLE BOLTZMANN BRAIN
CONSERVATION HERO: KOERT VAN MENSVOORT
Current conservation project/s:
At present, I'm passionate about the emerging post-animal bioeconomy. That's why I've co-founded Pembient, a company seeking to stop the poaching of, and prevent the farming of, iconic species. Our first product is rhino horn, which is prized as a carving material. We use synthetic biology and 3D printing to biofabricate it at a fraction of its illicit-market price. By doing this, we're essentially establishing what Nobel Prize-winning economist Dr. George Akerlof called a "market for lemons." Simply put, if biofabricated horns can be passed off as wild horns, then consumers won't be able to reliably determine any horn's real value and the price of rhino horn will fall. This, in turn, will reduce the incentive for poachers, middlemen, and corrupt officials to harm rhinos.
Greatest conservation achievement:
My greatest conservation achievement is my work on the Black Rhino Genome Project. This project involves my company, Pembient, the University of Washington, New Harvest, and DNAnexus. Together, we've crowdfunded over $17,000 to help scientists map out a black rhino's entire genetic code. Ultimately, the goal is to build a database containing data on all eight subspecies of black rhino, three of which are extinct, in order to better understand the differences within and between subspecies. One day, the data may even assist in bringing the extinct subspecies back to life. All of the project's data will be publicly available so that conservationists, biologists, and citizen scientists can use it in their own research.
How can we play to win the conservation game?
Fighting our way back to a past conception of nature is impossible. What we can do is move "forward to nature." We can do this through technology; however, it is up to us to decide what kind of nature would be best. We can make one that is a theme park guarded by cameras, drones, and GPS-enabled sensors. Or, we can harness the technology of nature itself to biofabricate one that includes an abundance of ivory, horn, and other luxuries. Only the latter satisfies our innate desire to touch nature, but does so without despoiling it.