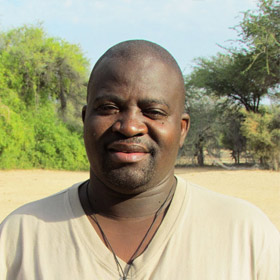 JOHN KASAONA KENENA
ORGANISATION: EXECUTIVE DIRECTOR OF THE INTEGRATED RURAL DEVELOPMENT AND NATURE CONSERVATION (IRDNC)
TEAM NICKNAME: JKK
IN THREE WORDS: CONSERVATION IS LIFE
CONSERVATION HERO: GARTH OWEN-SMITH, CHRIS EYRE
Current conservation project/s:
I offer ongoing support to conservancies, finding ways for sustainable financing for them. I'm also looking at ways to mitigate human wildlife conflict, investigating ways to eradicate the poaching that is causing havoc to our valuable resources, and continuously looking for ways to conserve iconic species such as the lion, rhino and elephant. In general, I am always working to bring awareness about the environment and conservation.
Greatest conservation achievement:
I have managed to turn conservation around in the region. Communities are now fully behind conservation and see it as their future. It has become their moral obligation to see to it that wildlife co-exists with the local people. I have played a huge role not just in conservation but also in the role of ensuring that people derive direct benefits from their conservation efforts. For instance, having the local people venture into joint partnerships with private sectors for tourism development business. As a result of the above, people can now tolerate wildlife even though it is not naturally easy for them to do that. Today, because of my influence, there are local people who can sit under a tree and plan how to manage both livestock and wildlife together, something that never happened before.
How can we play to win the conservation game?
I do believe that genuine respect and trust is the key in all conservation efforts, if this can be felt by the local residents we will make huge strides. We must also realise that in most instances, the local community are not well off, so whatever we are doing should first address their priority issues and offer something that will bring about change or a solution to their existing fate. In whatever we are doing, we must take people along and this must be genuine and always incentive driven.