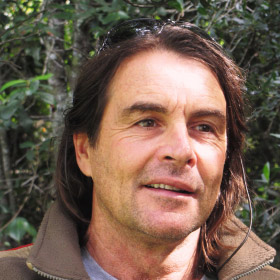 IAN MICHLER
ORGANISATION: DIRECTOR OF INVENT AFRICA SAFARIS
TEAM NICKNAME: THE BLOOD LION
IN THREE WORDS: PLEASE TREAD LIGHTLY!
CONSERVATION HERO: ANYONE THAT QUESTIONS THE CURRENT INTERPRETATION OF 'SUSTAINABLE USE'
Current conservation project/s:
Blood Lions: As the Consultant, Researcher and Lead Character in the feature documentary that has been seen in over 175 countries and territories (www.bloodlions.org) – and as a leader of the global Blood Lions campaign that aims to bring an end to all exploitative predator breeding practices as well as canned hunting (www.facebook.com/BloodLionsOfficial).
The Plan: A strategy that seeks to unite all stakeholders involved in the rhino poaching crisis – The Plan offers a multi-faceted approach that covers all aspects other than trade. (www.accountabilitynow.org.za/the-integrated-rhino-poaching-strategy-the-plan).
Tracks of Giants: The initial phase was a 5,164 km expedition walking, cycling and kayaking across six African countries, aimed at bringing widespread awareness to various conservation issues, as well as documenting the work of conservation, research, ecotourism and community 'giants'. The current phase is based on educational work and the production of a book and television documentary (www.tracksofgiants.org).
Eden to Addo: As a Director of a South African-based corridor initiative that seeks to link three mega-reserves – the Garden Route National Park, Baviaanskloof Mega Reserve and Addo Elephant National Park – by means of natural corridors, to restore and protect the regions' immense biodiversity (www.edentoaddo.co.za).
Greatest conservation achievement:
Our work is ongoing and it will be for others to decide who has achieved, or not.
How can we play to win the conservation game?
The conservation game is not complex. The urgent need to change our attitude towards the environment has nothing to do with one's wealth, race, religion or nationality. Instead, it has everything to do with common sense, as it boils down to ensuring our own and our family's survival. Among other things, every single one of us requires fresh air, clean water, fertile topsoils, functioning forests and oceans, biodiversity and an intact ozone layer to survive. Be logical – there is no other option but to change the way we think and behave before we reach a global 'tipping point'.