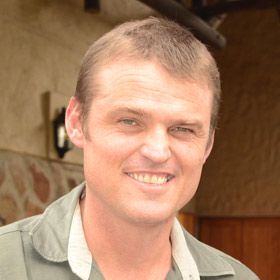 HUGO VAN DER WESTHUIZEN
ORGANISATION: PROJECT LEADER FOR THE GONAREZHOU CONSERVATION PROJECT AT FRANKFURT ZOOLOGICAL SOCIETY
TEAM NICKNAME: THE BEAST
IN THREE WORDS: PRACTICAL, SELF MOTIVATING, PERSISTENT
CONSERVATION HERO: THE LATE DR ANTHONY HALL MARTIN
Current conservation project/s:
I have been the Project Leader for the Gonarezhou Conservation Project (GCP), which is a project under the Frankfurt Zoological Society, since 2007. This is a multi-faceted project supporting the Zimbabwe Wildlife Management Authority in all aspects of managing Gonarezhou National Park, which is the Zimbabwe component of the Greater Limpopo Transfrontier Park. Currently the GCP is discussing a new model for conservation in Gonarezhou, with the Government of Zimbabwe to create a sustainable Park through the following three main themes: security, tourism and communities.
Greatest conservation achievement:
The re-introduction of Black Rhino to North Luangwa National Park in Zambia. Zambia used to have one of the highest black rhino populations in Africa, with more than 12,000 in the Luangwa Valley alone. By the early '90s there were no black rhino left in Zambia. I spearheaded a very ambitious project to establish a viable founder population of rhino in the Park, with the first rhinos arriving in 2003 and currently the only black rhino population in Zambia.
How can we play to win the conservation game?
If we look at the world today and consider what we already lost and still loosing on a daily basis then it is clear that we cannot win this game anymore. However, this game is not about the trophy, because there will be none. It is about our future and our children's future, and to give up is not an option. With the odds stacked against us, we need to stop looking for self-promotion and start building alliances within the conservation world and with local communities to work towards a common goal.