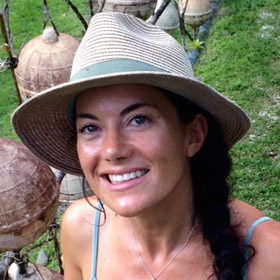 HANLI PRINSLOO
ORGANISATION: FOUNDER & CEO OF I AM WATER OCEAN CONSERVATION
TEAM NICKNAME: THE FISH
IN THREE WORDS: HONEST, PASSIONATE, AQUATIC
CONSERVATION HERO: DR SYLVIA EARLE AND JANE GOODALL
Current conservation project/s:
I run the I AM WATER Ocean Conservation Foundation – we believe in ocean conservation through human experience and we work under the ethos of, 'you protect what you love and you love what you have experienced'. We are all water and we all share the opportunity and challenge to protect our last wilderness beneath the waves. I AM WATER does this through education, awareness and advocacy with a focus on innovative ocean workshops offered to underserved coastal communities globally, as well as bespoke ocean adventures for paying clients serving as a form of sustainable fundraising.
Greatest conservation achievement:
Seeing the kids in our projects go from distrusting the ocean to feeling total connection and the desire to protect it. Through our programmes, hundreds of children have learnt to love and respect the ocean, as well as grow into kinder, more responsible humans.
How can we play to win the conservation game?
Humans are the biggest problem our planet faces; BUT we are also the only solution. We know enough (the research is there) and we have enough (the resources are there) to create real change in how we impact the natural world. What we need more of are individuals (both in powerful and in grassroot positions) to take responsibility for their blue or green backyard. We need to rekindle the deep connection our species once had with wilderness to see this happen… And whatever happens, we cannot give up hope.