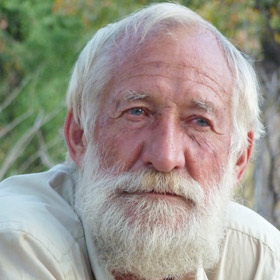 GARTH OWEN-SMITH
ORGANISATION: TRUSTEE AND CONSULTANT FOR IRDNC
TEAM NICKNAME: FIELD CONSERVATIONISTS
IN THREE WORDS: COMMITTED TO C.B.N.R.M. (COMMUNITY-BASED NATURAL RESOURCE MANAGEMENT)
CONSERVATION HERO: I BELIEVE IN MENTORING AND WAS FORTUNATE TO HAVE A NUMBER OF SUPERB MENTORS ALONG THE WAY
Current conservation project/s:
Re-engaging community leaders and communities in stopping rhino poaching in Kunene Region of Namibia; also working with issues around desert-adapted elephant and lion.
Greatest conservation achievement:
Helping to pioneer the practical application of community-based conservation and never giving up.
How can we play to win the conservation game?
It's all about relationships. The long-term conservation of wildlife will not be achieved by military tactics, on computer screens or at workshops, but by field conservationists who build relationships with the people living with wildlife or around our national parks.