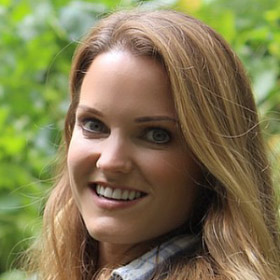 CATHERINE CAPON
ORGANISATION: NATURALIST, CATHERINE CAPON MEDIA
TEAM NICKNAME: THE ECOADVENTURER
IN THREE WORDS: POSITIVE PASSIONTE PERSISTENT
CONSERVATION HERO: DAVID ATTENBOROUGH
Current conservation project/s:
I'm currently making films, writing articles and creating imagery to encourage people to choose ecotourism and wildlife-watching holidays in their time off work. I believe that ecotourism is a powerful conservation tool, as it makes endangered animals worth more alive than dead. At its best, ecotourism provides employment for local people and puts a real value on areas of outstanding natural beauty.
Greatest conservation achievement:
Inspiring individuals, couples and families to immerse themselves in nature in their time off work. I believe that spending time with wild animals reminds us that we too are just animals. That commonality is what binds us. There is no conservation tool more powerful than a person who has bathed in this feeling.
How can we play to win the conservation game?
Spend time with wild animals. Observe them. Learn about them. See their beauty. Understand how our lives are intertwined. Love them and protect them.