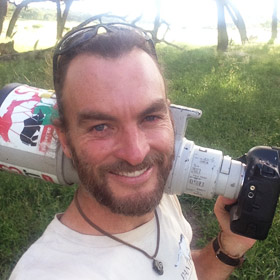 BRENT STAPELKAMP
ORGANISATION: LION CONSERVATIONIST
TEAM NICKNAME: TROPHIC CASCADER
IN THREE WORDS: HAIRY, HONEST AND HAIRY
CONSERVATION HERO: ALLAN SAVORY – HOLISTIC MANAGEMENT
Current conservation project/s:
I work primarily on migrating the conflict between man and lion and to do that I designed and implemented a Lion guardian project called the Long Shields, along with my right hand man, Lovemore. We also operate mobile cattle bomas that both protect livestock from predators and fertilise fields as they do so.
Greatest conservation achievement:
The design and implementation of the Long Shields project – we are seeing about 50% less cattle and lions killed now.
How can we play to win the conservation game?
Right, guys! We are in a triage state with conservation now, so we need focus… And we need it now. The lion is a flagship, a keystone and an umbrella species – and, what's more, it's a species that all humans share in our varied cultures – from Chinese to American, from Christian to Muslim. To save vast African landscapes we need to use that flagship to generate interest, passion and funds to conserve lions and, by doings so, landscapes and cultures!