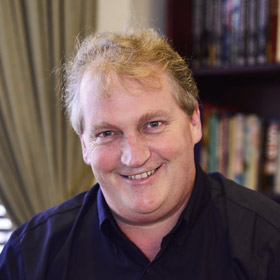 DR ANDREW MUIR
ORGANISATION: CEO OF WILDERNESS FOUNDATION AFRICA
TEAM NICKNAME: MUIR
IN THREE WORDS: CONSERVATIONIST, SOCIAL ENTREPRENEUR
CONSERVATION HERO: THE LATE DR IAN PLAYER, WHOM I UNDERSTUDIED FOR 13 YEARS
Current conservation project/s:
As CEO of a conservation organisation, the Wilderness Foundation Africa, my focus is on projects working to ensure the world has sufficient, intact natural ecosystems and wilderness areas that are valued and effectively protected for the benefit of all species. This is covered by various projects in the areas of Species (Protecting endangered species and keeping them in their wild habitat), Spaces (Establishment of protected areas) and People (Youth development through holistic skills development and education intervention, that harness the healing power of nature to equip vulnerable youth to be economically active and environmentally responsible citizens)
Greatest conservation achievement:
My greatest conservation achievement would have to be the fulfilment of the late Dr Ian Player's dream, which was to create a global organisation working to protect and sustain all life on earth. This culminated in the launch of Wilderness Foundation Global in June last year. Wilderness Foundation Global is the only international conservation organization born in and operating out of Africa, with a focus on integrating the three key areas linked to our core business: Species, Spaces and People.
The programmes that we have developed look at a holistic approach to wildlife conservation. We have seen a number of accomplishments across our projects from the positive impact of the Wild Rhino Competition in Vietnam, to the consolidation of a critical conservation area in the Camdeboo area, to a milestone of over 50 000 young, previously disadvantaged people going through our one day Pride programme. These achievements give us hope for the future.
How can we play to win the conservation game?
Our challenge is to provide innovative solutions to complex environmental problems in a rapidly changing and uncertain world. Two of the biggest issues that we are dealing with are global warming and the impact that it has on all species on earth, as well as the issue of social and economic inequality. Global warming is affecting species migrations and in some cases, extinctions. Rural and impoverished communities are becoming more dependent on the environment for their survival. These are changes we have to be mindful of and be a part of finding solutions that ensure sustainability. I believe that success is built on the cumulative impact that multiple projects, that reach milestones, can have for the greater good of conservation in Africa.